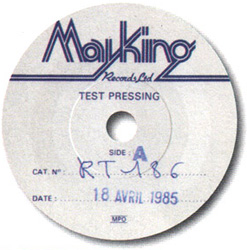 click to view (labels only, no artwork):
Mayking label 7" test pressing pale yellow label 7" test pressing 12" test pressing
"Meat Is Murder" live EP
collectors appendix

See info and background about these test pressings from the discography page.

UK 7" test pressing [Rough Trade RT186]
There are two different variations for this format.
light yellow test pressing
The other variation has not been seen for sale very often. It has yellowish beige labels, usually with nothing written or stamped on them. It allegedly predates the Mayking version described below.
RT 186 A-1U-1-1-1 / RT 186 B-1U-1-1-1
Mayking test pressing
The most common of the two 7" test pressings - or more appropriately the least rare - is the one manufactured at the Mayking pressing plant, thus bearing Mayking labels. Label on side A is stamped in blue ink with the letter 'A' and the date '18 AVRIL 1985' and has 'RT 186' in handwriting. Label on side B is simply stamped with the letter 'B'. It has been speculated that about 25 copies have been made although this has never been confirmed.
RT 186 A1 / RT 186 B1
UK 12" test pressing [Rough Trade RTT186]
There appears to be two different test pressings for this format as well, but they each are much rarer than their 7" counterpart. The record in both cases usually has plain white labels with nothing on them and is slipped inside a white die-cut sleeve. The sleeve sometimes has the tracks handwritten on it, under "Live At Oxford Apollo" or "Live At Apollo Theatre Oxford". Some collectors have speculated that these may have been working titles for the aborted EP although there is absolutely no proof to that effect.
RTT 186 A1 / RTT 186 B1
("Our Souls Our Souls Our Souls" over three lines)
RTT 186 A-1U-1-1 / RTT 186 B-1U-1-1 RTT 186 B-1U-1-1
("Our Souls Our Souls Our Souls" over three lines)
In a die-cut white sleeve stamped with "16 APR 1985" and handwritten "RTT 186 A&B 1U".
§
UK 12" acetate [Rough Trade RTT186]
A 12" acetate appeared on the collectors market in 2011. Its legitimacy has not been established. The acetate has all-white labels and comes in a white paper inner bag. The version of the title track has a slightly different intro, the groove spacing on side A is different (less spread out) and the matrix content is slightly different. Any information about the story behind this item would be welcome.
RTT 186 A1 / OUR SOULS OUR SOULS OUR SOULS (no number on side B)