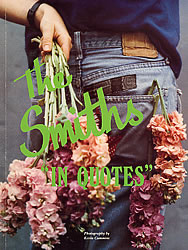 Published by Babylon Books, 1985.
ISBN: 0-907188-26-5
This is a compilation of quotes that have appeared in various interviews with the band. The quotes are arranged by subject, and are from all four members of The Smiths, but mostly from Morrissey. The book also features photos of the band by Kevin Cummins.

This was more or less re-released by Babylon a few years later under the title "Morrissey In Quotes", with more quotes, but without the non-Morrissey ones.